"Myth" is the first 3d printed shoe collection designed for ready-to-wear. Each design is 90-100% made from components manufactured on small desktop machines, optimized for scalable 3d printing production. Hand finishing on the shoes is kept to a minimum, in keeping with the goal of making finished consumer products from 3D printers, so that designs manifest directly from digital to physical. There is a definite feeling of magic when pulling out a complete shoe from a glowing box.

The collection contrasts overtly digital geometry with very organic, natural forms. The tree-like designs are inspired by Bernini's statue of Apollo and Daphne-- the story of the nymph who turns into a laurel tree. These designs were created to exemplify the beauty of how objects are made on a 3d printer, where the object "grows" layer by layer. The triangulated design is inspired by Tron, and computer graphics…avatars in video games that are composed of low resolution polygons. So they are both about the body transformed, and myths old and new.

The first design available for purchase is the Laurel Tree Sandal, which features the sculptural 3d printed platform with silk ribbon laces that tie around your ankles. The other designs will be released gradually after a pre-order period, so that testing and finishing details can be completed.
New designs will be released every month or so, and will expand to flats and boots down the line. Sign up for our mailing list to be updated on news, or follow us on Twitter.


Please email us if you require
more details.
hello@continuumfashion.com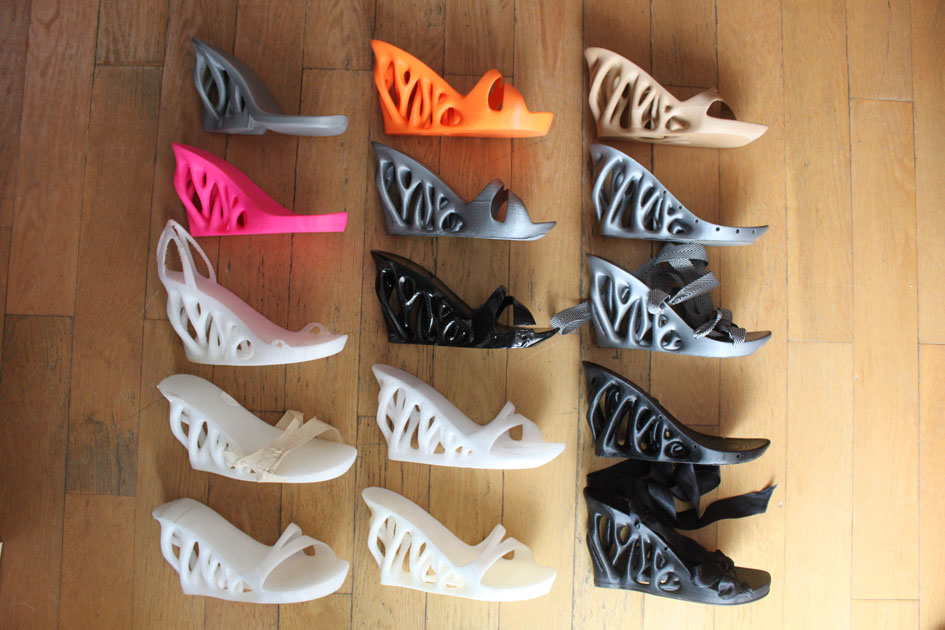 Much work was done in testing over 30 materials through the design process. Significantly, the urethane soles on the shoes are also 3D printed. So, these designs are a virtually zero waste product. 3D printing will be the leapfrog technology in achieving sustainable manufacturing.

Our long term goals in pursuing 3d printed fashion are complete automation and digital distribution. There are also material benefits that make it possible to print shoes that are actually better than traditionally made shoes. The structure inside the printed shoes is largely hollow, which makes them much lighter. Not only is this a benefit to making platform heels, but it has much potential with application to high performance and athletic footwear.

There are also some interesting new materials that have recently become available, like wood composite (pictured below) and carbon fiber. Designing with 3d printing must not seek to merely replicate existing products, but to design better products than what is currently possible.